A Bhakti ID is required to register for events on the Bhakti Marga website. This article will tell you everything you need to know about how to open an account, set up your Bhakti ID, and access the information found in your personal dashboard.
TABLE OF CONTENTS
Scroll through the whole article, or click on a link below to go directly to a specific section:
ARTICLES
What is Bhakti ID?
The Bhakti ID is your key to unlock your Bhakti Marga account.

Your Bhakti ID gives you access to your account information.
You can also access course and video content available behind the scenes inside the Bhakti Marga website.
You automatically get a Bhakti ID when you set up an account on the Bhakti Marga website.

Setting up your Bhakti ID is simple and only takes a few minutes.
Once you are signed up, you will have your own personal Dashboard

which will give you access to your information and courses.
Why do I need a Bhakti ID?
A Bhakti ID is required to register for all events and courses found on the Bhakti Marga website.
It also allows you access to:

Your personal dashboard.

See your BhaktiShop purchases, donations, and monthly payments.
Enrol and view a wide variety of free and low cost online courses found in My Courses/
Through Guru Connect a monthly subscription program you will have access to an amazing collection of non-public video content from Paramahamsa Vishwananda.
How do I create a Bhakti ID?
Click on Bhakti ID in the top right navigation of the Bhakti Marga website or use this link.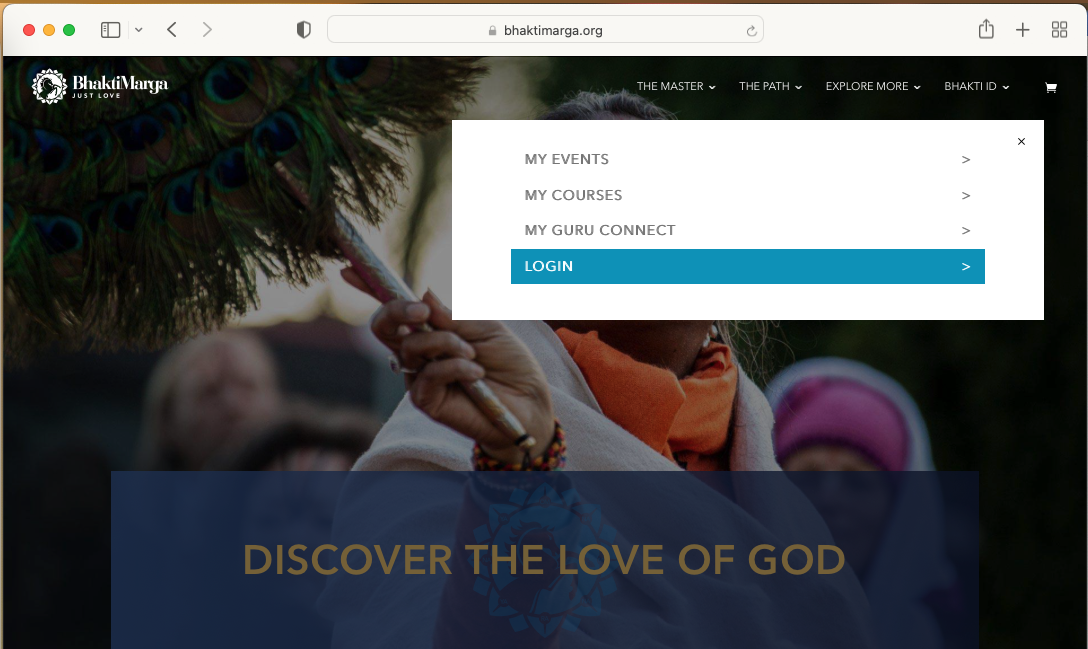 Fill in the Registration Form on the right-hand side of the page with your:

First name

Last name

Email address

Desired password

Check the 'I'm not a robot' box and follow the directions that will pop up*.

* Be sure to enable pop-ups in your settings so you can complete the process.

Be sure to check 'I agree, to the General Terms and Conditions of Bhakti Event Gmbh and I noticed the privacy policy.'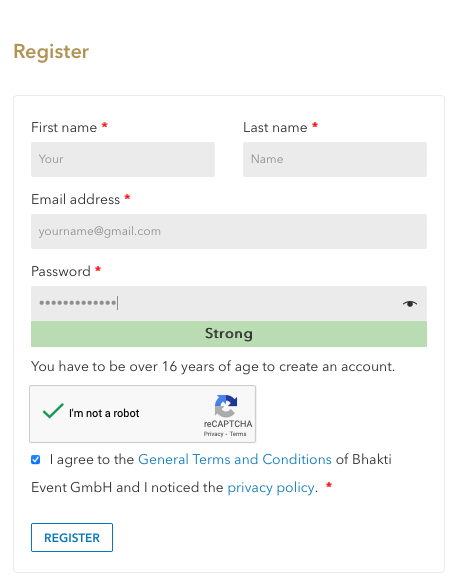 When you are finished, just click on the Register Button and you are ready to set up your personal Profile.

Look for an email confirmation about your account set up.
If you don't find the email, please be sure to check your Spam and Promotions Folders. If it still hasn't come in a couple hours, please write to us at techsupport@bhaktimarga.org for assistance.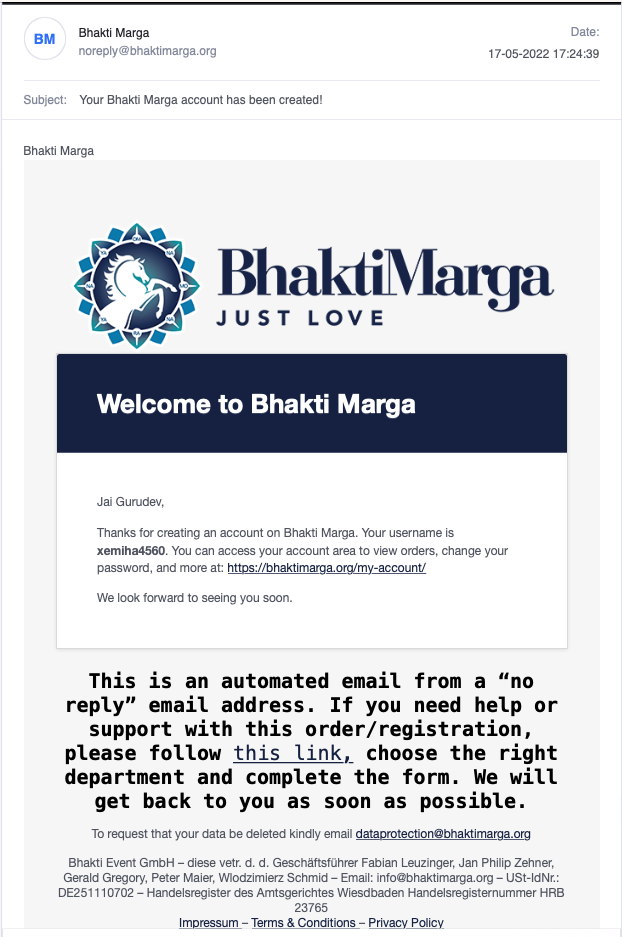 How do I set up my Profile?
Once you hit Register you will be taken to this Dashboard page.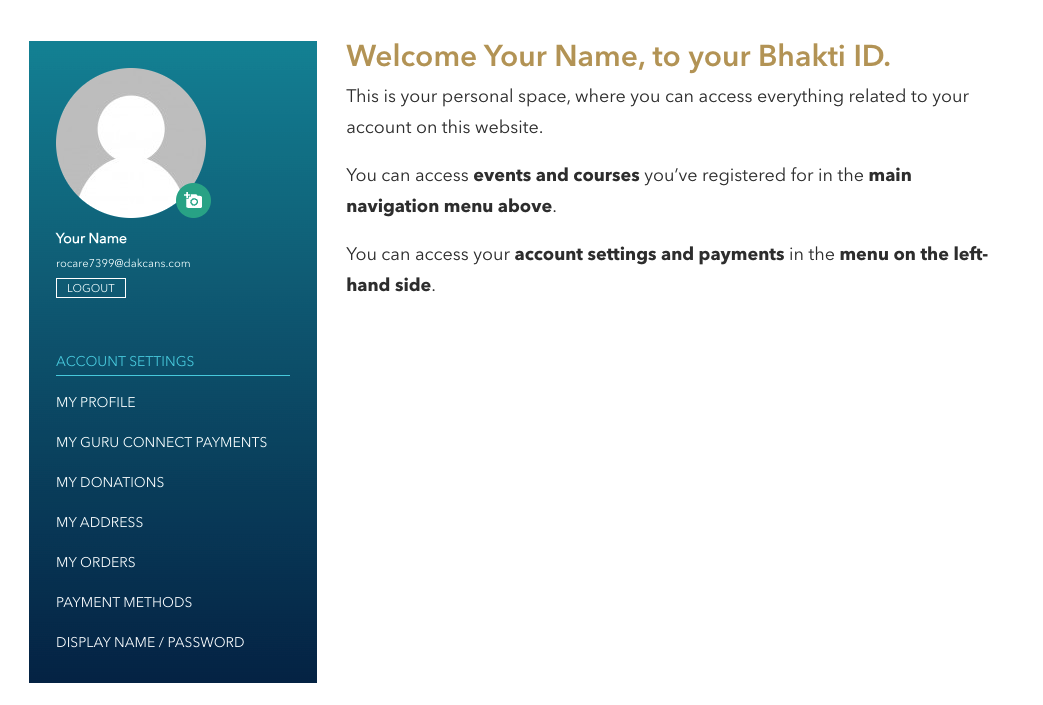 Click on My Profile and a questionnaire will appear.
Please take a few minutes to complete the questionnaire.

Your profile is a summary of your Bhakti Marga journey.
It will help you keep track of the courses you have taken and take note of others you may wish to take in the future.
Although the profile is not required, your answers will help us to better serve you on your Path.
If you choose to skip this step, you can always come back to it later.

Please be sure to check the consent boxes at the end.
What can I access in my Bhakti ID Dashboard?
When you sign up for your Bhakti ID -- and subsequently sign in -- you will have instant access to several important features:
Profile: It is best for you to keep your profile up-to-date as you move along your journey. You can come back to this page to update it at any time.
My Guru Connect Payments: Guru Connect is a monthly subscription program that gives you access to very special, non-publicly available content with Paramahamsa Vishwananda. You will be able to see your payment history in this section.
My Donations: In this tab, you can make one-time donations or monthly payments for your subscriptions (Guru Connect / Serve a Deity). You'll also be able to see your donation history and get support if needed.

My Address: Here you can see and update your Billing and Shipping Address.

My Orders: All your purchases from the BhaktiShop, My Courses, and My Events will show up in this section.
My Payment Methods: You can save time and effort by adding your preferred Payment Method to your file. In this section, you can add and delete Credit Cards, Debit Cards and your SEPA Direct Debit account details into your own private and secure dashboard.

My Display Name / Password: If you ever need to make a change to your account, you can just visit this screen.
How do I log into my Bhakti ID?
After you have created your Bhakti Marga account and signed out, you can re-enter by clicking on Bhakti ID in the top right of the navigation bar next to the shopping cart icon.

NOTE: You must be logged in to access your dashboard, register for events, and make purchases.

My Events: This is where you can see your current events and access the required Zoom Meeting IDs and Passwords. You can also cancel your events from here as well.

My Courses: Here you can see and access all the courses you have enrolled in. You can also check out and enrol in new courses.

My Guru Connect: When you are enrolled, you will be able to access your Guru Connect content via this tab.

My Tradition: If you are an initiated Devotee, you will be able to access documentation associated with our Hari Bhakta Sampradaya.
My Account: This link takes you back to your Dashboard.